.
DAVE CHRISTIANI
Official NovaRossi Ambassador
.
We are happy to announce that Dutch carom player Dave Christiani has signed to become NovaRossi Ambassador. Christiani, who has been playing with Molinari for over five years, has been asked to field test our brand new NovaRossi cues:
"On the first pull, I immediately felt that the cue handled just as easy as a Molinari cue. Noticeable about these cues is how comfortable it balances. There is a good selection of unique designs: from classic to modern and from sophisticated to bold.
The major differences between NovaRossi and Molinari for me are (1) the price range and (2) the fact that NovaRossi has several interchangeable shafts, for classic disciplines as well as three-cushion billiards, with distinct weights and thicknesses. For me personally, that is ideal. I can play everything with the same cue from now on. I feel that this is an excellent addition for a quality brand like Molinari." – Dave Christiani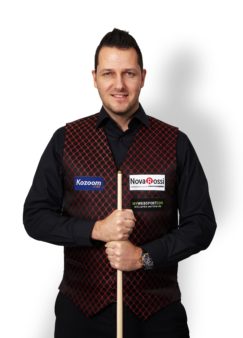 Personal records:
Dutch record tourney average cushion carom: 21.92
Highest series three cushion: 21
Highest match average: 4.44
Highest tourney average: 1.78
Highest noted global rank: 31
2x One turn cushion caroms
Notable achievements: 
4x Dutch champion libre and balkline 47/2
4x European champion libre and balkline 47/2
2x Dutch champion majors libre (2000, 2012)
3x Dutch champion majors 71/2
1x Dutch champion majors cushion carom (2012)
2x Grand Dutch Penthatlon Winner (2012, 2014)
1x 2d place Dutch Championship Three-Cushion
1x 1st place GP Three-Cushion Capelle a.d. IJssel
1x European Champion balkline 47/2 (2003)
1x Third place World Championship Penthatlon (2001)
1x Tenth place World Championship in Vienna
.